More often than not, we're given the freedom of choice – a seemingly endless amount of choice, tbh. 
Fancy white chocolate mousse for dessert? Sure. Do you like platform heels that have two buckles instead of one? Done! Are you dissatisfied with your mobile phone provider? Well, chances are, their competition is right next door, ready to grab your hard-earned money. 
But not all things are created equal. For example, choosing to buy the family-sized box of cereal as opposed to the multi-pack is in no way comparable to choosing a sleek and seductive sex toy. The two are simply incomparable. 
And while making choices can be difficult for some, we've made the process of choosing and buying your next sex toy, pretty simple. Ready? Let's have fun…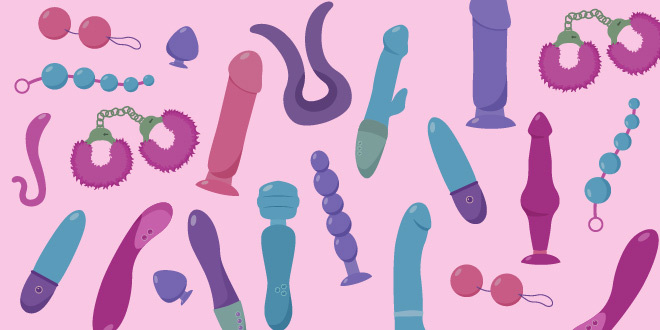 What is a Sex Toy?
A sex toy is an object or device that's used to gain sexual pleasure. 
There are many different kinds of sex toys, some resembling male or female genitalia, some electronic with the ability to vibrate, some for insertion, some for stimulation, a few that can be used as props in the bedroom, and so on and so forth. 
History of The Sex Toy
How did we wind up here, with an array of delectable sex toys and erotically-charged items up for grabs? Well, it wasn't always so. 
Here's a not-so-boring timeline on the history of the sex toy.
Siltstone Dildos: This is the oldest form of sex toy that we know of, and was used some 32,000 years ago! But in an odd twist, they were also used as chipping flints. Eesh! 
Rubber Sleeves: Then, in the 18th and 19th century, Spanish and French sailors began carrying something they liked the call, "Ladies of the Journey," whist at sea. These were rubber sleeves made for self-pleasure.
Steam-Powered Vibrators: During the 1860's, the steam-powered vibrator was devised, but only implemented in doctor's offices. They were used as a means to help women with hysteria. Yep, hysteria! 
Battery-Powered Vibrators: These nifty vibrators came about in the 1870's, but were nothing like what we know them to be today. Their batteries were massive, like that of a car battery. Awkward. 
Vibrators Outside of the Doctor's Office: As time evolved, so did the use of the vibrator. And between 1890 and 1910, these sex toys were available for purchase outside of the doctor's office. It was also around this time that these devices were used in pornographic channels, which is when doctors stepped aside swiftly and stopped using them.
Health and Wellness: In 1928, the vibrator took on a different role and was marketed for women who wanted to lose weight… *scratches head*
The Magic Wand: In 1945, the magic wand reared its head, becoming known to U.S. military men who were stationed in Japan.
The Silicone Dildo: Move over G.I. Joe, we've got a new soldier who deserves more recognition… that is, G.I. Duncan. In the 1970's, this creative and award-deserving man invented the silicone dildo for his wife.
LELO in the Spotlight: In June 2011, LELO invented the INEZ, a 24-karat gold vibrator . A toy marketed "for women who demanded the ultimate in luxurious indulgence."
Popular Representation of Sex Toys in the Mainstream Media: Today, we're looking at novels, films, and TV shows with the appearance of sex toys. The novel, 50 Shades of Grey was brought out in 2011 and the film in 2015, which increased awareness, debate, and consumption of BDSM sex toys and props . 
And now that we know all about the sexy evolution of the sex toy, let's take a closer look at the different kinds we can find today…
Different Kinds of Sex Toys
Whichever brand of sex toy or sex shop you prefer, these delicious items are driven by human sexuality, and they're made with an important thing in mind: to get you off!
So, the more you know, the easier it'll be to choose a sex toy for him, her, or both, that suits your needs, and gives you the most pleasure. Find your muse…
Sex Toys for Women
SONA and SONA Cruise : The SONA and SONA Cruise are similar in nature in that they both stimulate 75 percent more of the clitoris. It uses sonic waves and pulses instead of vibrations, has eight different settings, is waterproof, and is a heck of a lot quieter than your average sex toy. 
What's the difference between the SONA and the SONA CRUISE ? Well, the SONA CRUISE has something called the SONA Cruise Control that reserves 20 percent of its full power during normal use. That means that, when the power drops, you'll have an extra 20 percent unleashed as not to compromise its power and intensity. 
SORAYA : For the girl who wants it all, the SORAYA gives one pleasure on the inside and out – that is, clitoral and G-spot stimulation at the same time. It's the rabbit vibrator, redefined.
GIGI 2 : This is for women who want to stimulate their G-spot. It's a curved device with a flattened tip, making it an easy-to-reach sex toy with near-silent vibrations. But there's more to the GIGI 2 than what meets the eye! This nifty device doubles up as a clitoral stimulator when flipped. Yay for double fun!
INA Wave : This contraption uses simultaneous vibration to give one a blended climax. The INA Wave rabbit vibrator mimics the 'come-hither' motion, massaging the G-spot with powerful vibrations. Who needs fingers when you have this little number?
Sex Toys for Men
F1s Developer's Kit : This no-nonsense sex toy for him bridges the gap between science and nature. The F1 Developer's Kit has dual motors that create sonic waves, and has its very own app and free Software Developer's Kit in order to create your own sensations and track your progress via the toy's internal sensors. Now that's some smart play time!
HUGO : Love climaxing? Great! Now take your regular orgasm and increase the intensity by 33 percent… that is the HUGO prostate massager. It's a waterproof, remote-controlled device with two motors – one in the base and one in the tip, and can be used solo or with a partner.
BRUNO : For internal and external stimulation, BRUNO has two motors. It's a medium-sized sex toy for him, making it a good choice for first-timers, and is a silky silicone toy, hands-free, with six vibration patterns.
LOKI WAVE : A first-ever vibrating prostate massager that moves back and forth, the LOKI WAVE has dual motors and mimics the 'come-hither' motion. It targets the prostate and the perineum for double the fun.
Sex Toys for Couples
TIANI 3 : The TIANI 3 is a sex toy for couples, a remote-controlled massager that works both internally and externally, for women. And with its Sensemotion Mode 2, you can increase the vibrations the faster you move. Once inserted, he will enter as to share the pleasure. 
TOR 2 : This sex toy for couples is a vibrating cock ring and is worn by him whilst making love. In this way, it creates a more intense climax for both partners. The TOR 2 has six pleasure settings, and is 100 percent waterproof.
IDA : The IDA is a vibrator worn by her during sex, and is remote-controlled. It's a way in which for both partners to enjoy the rotational vibrations. It has a slender arm, making it easy to insert and even easier to enjoy.
LYLA 2 : Want to create bouts of pleasure anywhere and at any time? The LYLA 2 is a sex toy for both partners to use discretely whilst out and about. It's a near-silent bullet-style sex toy that can be controlled by the touch of a button via wireless technology.
Sex Toys for Kinksters & BDSM-Enthusiasts
Anniversary Collection: As part of LELO'S 15th anniversary celebration, the Anniversary Collection is a limited-time BDSM set containing 12 unique items encased in a luxury carry case. From feather teasers, crops and shackles, to massaging toys, beads, and plugs, this set has something cheeky for everyone. 
Dare Me Pleasure Set: For a more intense sexual tryst, the Dare Me Pleasure Set contains the SENSUA Suede Whip, ETHEREA Silk Cuffs, and Luna Beads Noir. This pleasure set is 50 Shades inspired, and offers an array of different sensations and restraints. 
Indulge Me Pleasure Set: Why choose one when you could have three? Indulge Me Pleasure Set contains the INTIMA Silk Blindfold, a TANTRA Feather Teaser, and the NOA Couple's Massager. Use each item to restrict one sense while intensifying the others.
SENSUA Suede Whip: Soft and supple suede tassels, polished metal, and an acrylic handle – what more could you ask for? The SENSUA Suede Whip is a prop that can be administered softly or firmly on a partner for an intimate, thrill-seeking, and rather adventurous sexual experience.
To sum up, we've come quite a long way in the advancement of sex toys and boy, we couldn't be happier. Got an itch that needs to be scratched? There's a toy for that! Find your perfect partner-in-crime and use it deliciously.
The post Types of Sex Toys: You'll Seriously Love Them appeared first on Volonté .
Intimate Tickles found this article quite interested, and we thought you might to. We give all the credit for this article to
Helena Lorimer
. Click Here To
Read This Article From It's Original Source