Am I the only one who frees myself from the prison that is pants immediately as I get home from work after a long day? There's no better feeling, besides maybe orgasming or taking your heels off after a night of dancing. Founded in 2003, National Underwear Day is all about embracing body and getting comfortable in your own skin. Your body loves you, so love it back.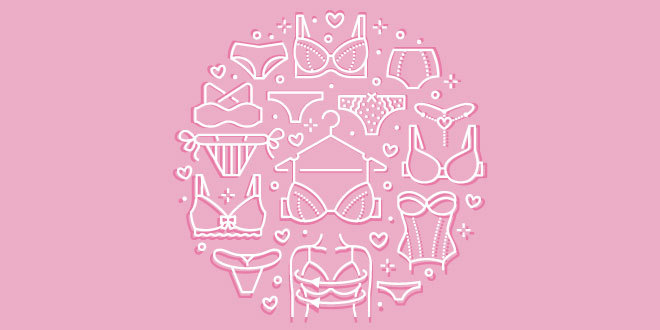 "My underwear are too sexy," said no one ever. Let's face it, life's too short to wear boring underwear. And it doesn't matter if nobody else is going to see them. There's something about wearing sexy underwear or lingerie under your normal clothes that helps you carry yourself better, a little pep in your step if you will. 
Never been streaking? It's time to cross that off your bucketlist too. We all want the same thing from our underwear as we do from our partners, a little bit of support and a little bit of freedom. Consider this as indulging in your freedom as you run around the block wearing only your chonies. It can be a silly reminder that life doesn't always have to be so serious. 
What Your Undies Say About You
Boy Shorts
You're what they would consider "a guy's girl," meaning you can totally keep up with the boys. You're comfortable in your own skin, even if that means not showing as much, but you're still hot as hell with that modesty. You even rock some of those funny phrases on your boyshorts, like "all this and brains too," or "in case of emergency, pull down." 
Bikini Bottoms
You're known to enjoy the simple things in life. You wear comfortable underwear so that you're ready to take on all of life's adventures, and you have fun while doing it. You're a total boss bitch when you need to be, and the go-to girl when friends want good company at happy hour.
Thongs
You are an independent woman who's always on the go, but you enjoy a bit of structure in your life. In one hand you have a venti iced latte and in the other you have your weekly planner that's color coded with work and social obligations, like your Netflix viewing schedule and weekly karaoke gig at the nearest dive bar.
G-Strings
The moment you walk into a room, everyone notices you, but not at all because you like attention. You're the low-key life of the party, the missing piece to the puzzle. Your wittiness is discrete and takes people by surprise. Once your pants are off though, you definitely know how to take control with a natural and authentic charm.
T-Strings
Damn sis, we respect the heck out of you. You are gleaming from your sensual confidence and it's admired by all your girlfriends. You aren't afraid to say no, and you certainly aren't afraid to say yes to a good time. Even though your sexy little panties cost three times more for three times less fabric, the way they make you feel was so worth the investment. 
Edible Undies
Oooo girl, we know it ain't gunna spank itself! Those edible undies are a treat for everyone, including our imagination.And if you want to celebrate National Underwear Day by wearing no panties at all , remember that "those who don't wear underwear never get their panties in a bunch." So enjoy, you little rebel you.
The post Hip Hip Hooray, It's National Underwear Day! appeared first on Volonté .
Intimate Tickles found this article quite interested, and we thought you might to. We give all the credit for this article to
Donna Turner
. Click Here To
Read This Article From It's Original Source