For many of us introverts, the idea of 'social distancing' feels like a blessing in a very dangerous disguise. Our governments are advising us all to stay home, to avoid all unnecessary travel, and to keep a roughly two-meter gap between ourselves and others. That's bad for our social lives, but what does that mean for our sex lives? 
LELO has some answers for you!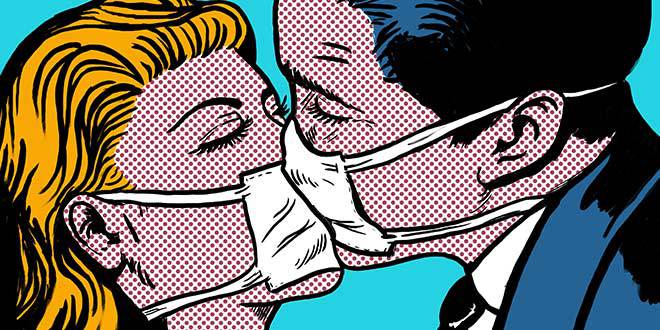 Can I Get Covid-19 From Having Sex?
It doesn't seem like the virus can be passed on through sexual intimacy alone. That is to say, the coronavirus isn't sexually transmissible if the sexual intercourse involves only penetration and nothing else. The research suggests that's spread through respiratory droplets first, and second, by contact with contaminated surfaces like door handles.
That said, having sex with someone who is contagious, whether they know it or not, greatly increases your chances of contracting it. During sex, there's often kissing, and breathing in each other's faces, and both of these are likely to transmit the virus via saliva.
There's also evidence to suggest that oral-to-anal sex might also transmit the virus, so, for the good of society, we might all have to back off the analingus and ass-to-mouth for a while. 
But Vanilla Sex is Safe?
That's a big question. Is sex ever really safe anymore? At the very least, you should apply normal precautions during sex, such as the use of condoms . If you're desperate to indulge in oral sex and can't go a couple of weeks without it, use a dental dam.
But the general advice is that if one of you has tested positive for the virus, or is showing symptoms of it, put as much distance between yourself and everyone else until 72 hours after those symptoms have stopped on their own.
Oh, and remember, whether you are contagious or not, you can't catch it from masturbation .
But I Just Need To Get Laid
We all do, hun. But for now, we should all try to stay home as much as possible, and interact only with people for essential things like groceries or medical or legal issues. But if you can find a way to have sex while maintaining a two-meter distance between you, we're all ears. In the meantime, put Tinder away for a while.
Besides, sex doesn't have to be physical. Phone sex, instant messaging, webcamming and joint – but separate – masturbation are all great alternatives. Cue up some porn and watch it remotely together. 
Can I Catch It From Oral Sex?
Right now, there's no evidence to suggest that the virus can be transmitted through the ingestion of sexual bodily fluids. So it's likely that you won't catch it from, say, swallowing semen. But most kinds of intimacy, especially sexual intimacy, involve a risk of secondary transmission.
That means, while it's unlikely you'll catch it from oral-to-vaginal or oral-to-penile contact, or vice versa, there is a high chance that some transmission of saliva or respiratory droplets will occur. That means normal, sensible precautions should be taken.
How Can I Vent My Sexual Frustration?
Masturbation! Have you tried masturbation? It's great, and there's never in human history been a better excuse to do it. Because being self-isolated doesn't mean you have to be self-celibate. Heck, that's what LELO is for, right?
Use this time to focus your energy and reconnect with your body. It's the perfect time to explore new and creative ways to enjoy sex with yourself .
Don't forget your anti-bacterial toy cleaner !
The post Sex & The Coronavirus: Your Questions Answered appeared first on Volonté .
Intimate Tickles found this article quite interested, and we thought you might to. We give all the credit for this article to
Sandro
. Click Here To
Read This Article From It's Original Source