Whether it's your first time having sex, or a time to get back to the basics, these good sex positions gained their popularity for being easy accessible no matter what your experience level is. Simple, effective orgasms are never a bad idea. 
All of these positions can be adapted for non-penetrative sex and regardless of either partner's gender!
Missionary Sex Position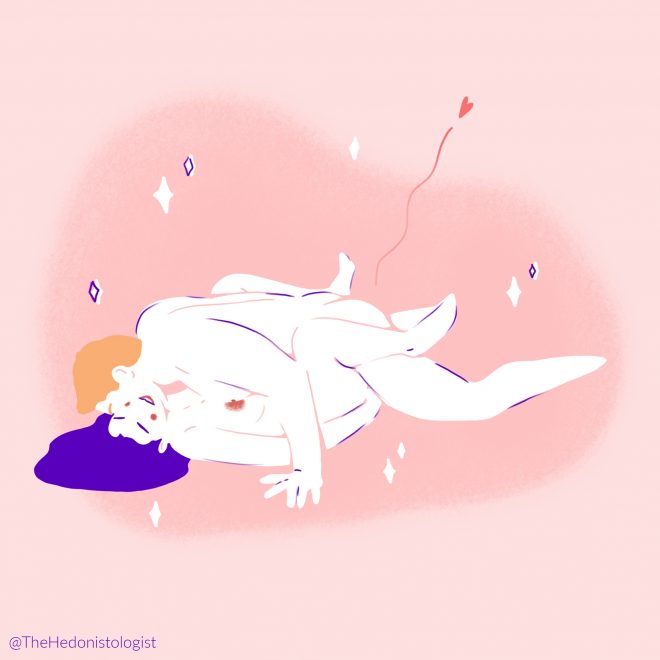 Missionary gets a bad wrap because of partners who "starfish", or tend to just lay there without engaging. Sex is a harmonious act between people, so make sure to share the pleasure! This position allows you to establish a deep emotional connection with your partner by being face-to-face.
In the missionary position, the top partner does most of the work in this position, but the good news is that it's relatively easy to get into it. All the bottom partner has to do is spread their legs while the top partner penetrates from between them. 
If you're interested in non-penetrative sex, you can also do this position by rubbing the genitals against one another. And even if you like penetrative sex, sometimes it's an arousing mix-up to keep stimulation external. Try it.
Spooning Sex Position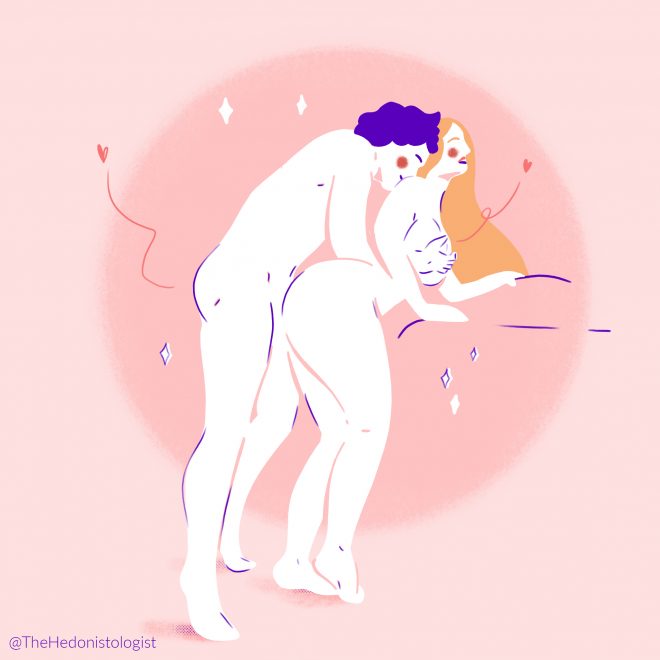 The spooning sex position is perfect for low-key, lazy, but no less intense sex. Since both partners are on their sides, it frees up their hands to stimulate their partners in other ways. You can stimulate your partners breasts, massage their body where they are highly sensitive, or even touch yourself. 
Just like missionary, you can adapt this sex position non-penetratively. Since it's naturally more of a heterosexual sex position, try sliding the penis between the labia, or lips of the vulva. Add in a strap-on if no penis is involved. 
Supported Cowgirl Sex Position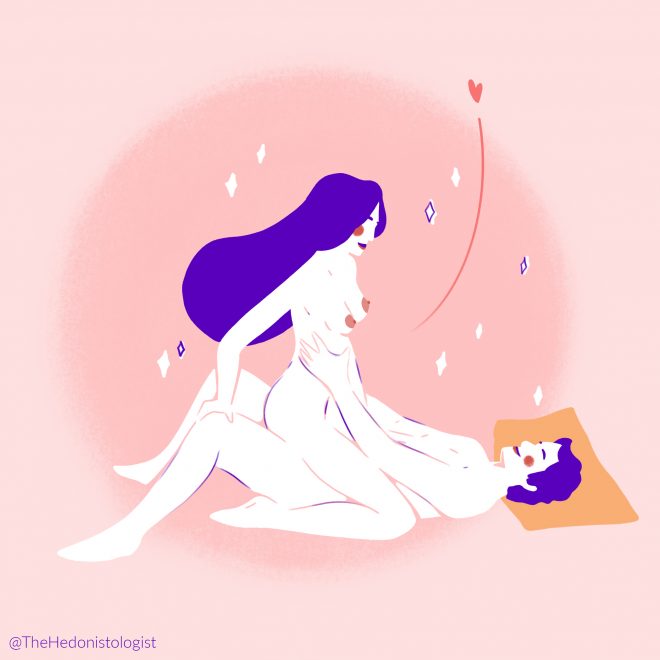 The cowgirl sex position is all in the hips! One partner straddles the other while the bottom partner provides support by bringing their knees up and holding their partner by the torso. The top partner can either lean forward or prop their arms back on their partner's legs for added support.
The cowgirl position can offer a change in power dynamic for heterosexual and other couples who are used to one partner in control. The top partner can experiment with swaying their hips back and forth, side to side, and up and down. This position is especially favored by top partners with vulvas because it easily stimulates the clitoris!
Reverse Cowgirl Sex Position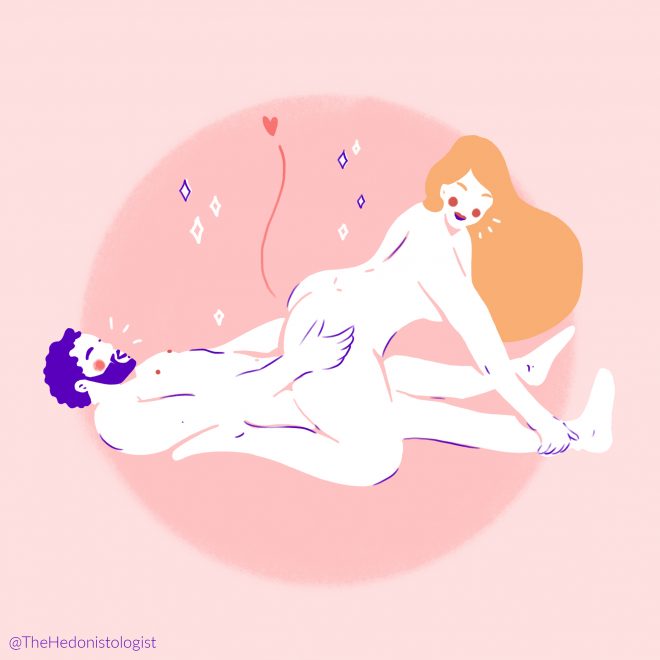 The reverse cowgirl sex position offers the bottom partner a very special POV (point-of-view). Like cowgirl, the top partner straddles the bottom partner, but faces away from them. The top partner can lean upright or hold on to their partner's legs for support.
The bottom partner has a full-view of penetration. You can do so as normally expected, with a penis, with a strap-on , or even with the bottom partner holding a sex toy while the top partner rides it. Hot! Test out your favorite dildo or rabbit vibrator to hit those orgasmic spots.
Good Oral Sex Positions
Eating Out Sex Position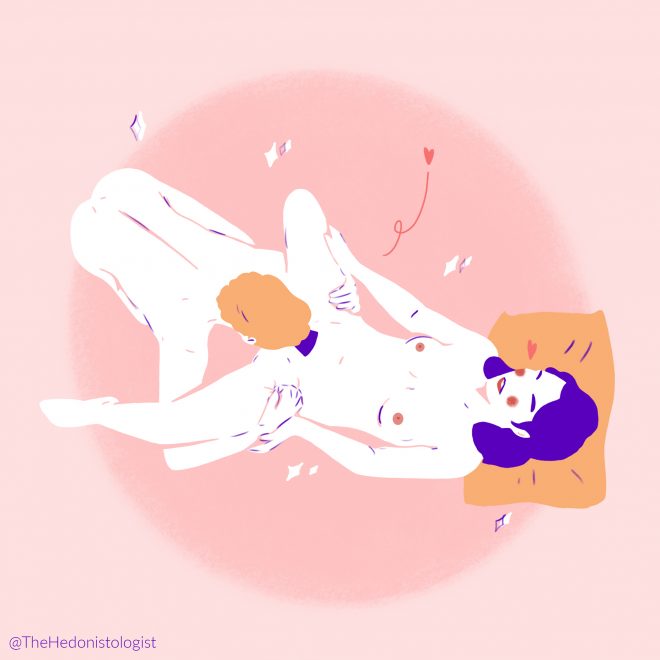 The eating out sex position is all about putting tongue to pleasure button! Lay down on your back, prop your head up with a pillow, and spread your legs wide open so that your partner can fully engulf your sensitive areas with their mouth and tongue. Returning the favor is always welcome!
Some tips to keep in mind while giving oral sex : you don't have to do anything crazy. Experiment with short flicks and long, flat licks. In general, the simpler, the better. No need to write out your A-B-Cs. You can also penetrate the vagina with the tip of your tongue. Most importantly, ask your partner what they prefer before and during the act.
Accordian Oral Sex Position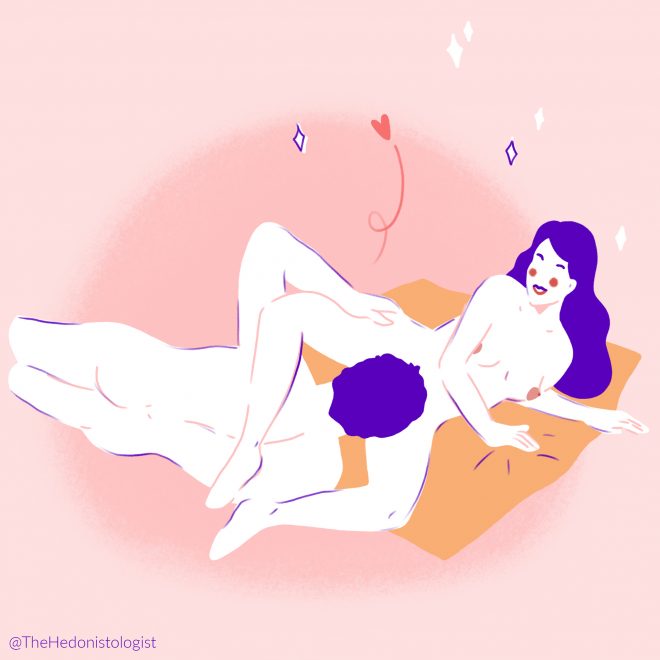 The according oral sex position is similar in nature to the eating out sex position. The only difference is that the top partner is laying on their side, perpendicular to the receiver's body. The receiver opens their legs while on their side, but can keep it steady against their partner's shoulder. 
Ever heard of the Kivin Method ? It's basically about giving head to a vulva sideways and can offer an even better climax in this position.
The post Plain Ol' GOOD Sex Positions That Will Get You Both Off appeared first on Volonté .
Intimate Tickles found this article quite interested, and we thought you might to. We give all the credit for this article to
Donna Turner
. Click Here To
Read This Article From It's Original Source