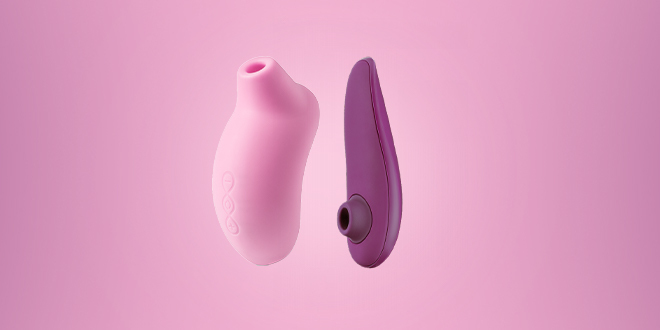 Did you know that clit suckers don't actually involve any "sucking"? They use air pulsation to send waves of vibration into the clitoris without directly touching it like a conventional vibrator. Not only will they push you over the edge, they'll keep pushing your peak for bigger orgasms. Check out the review of Womanizer Premium and Lelo Sona 2 Cruise below.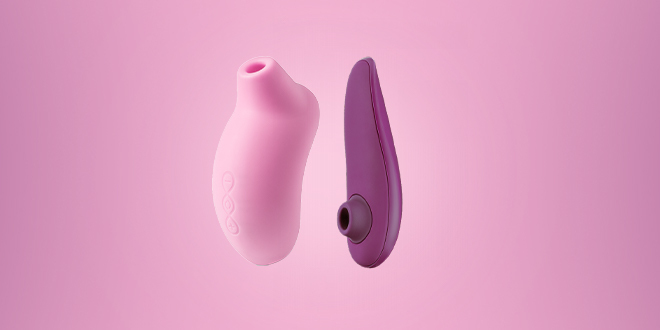 Womanizer Premium
Full Price $189
★★★☆☆
Womanizer Premium is a pretty solid clit sucker with some fancy bells and whistles. It contains Smart Silence technology, which means the toy doesn't turn on unless it's against the skin. Likewise, it will turn off as soon as you remove it from the skin. Another technology it contains is a separate Autopilot button that basically lets the toy do its thing through a randomized setting. One of Sona's settings is also randomized, but Womanizer Premium has it as a separate function altogether.
The air pulsations on Womanizer Premium are more of a beating sensation, think like a thumping heart. While on the surface it feels strong, the sensation didn't seem to go as deep as Sona, so if you're someone who prefers more intensity on the tip of your clit, this could be a good option. 
Womanizer Premium comes with 2 detachable heads and covers more anatomies than Sona, which could be helpful if you don't know where your clit is located. It's easy to clean the heads since they're detachable, but I found cleaning the actual toy more difficult because the mouth goes more narrow at its end. Use a q-tip and some hand soap. 
Womanizer Premium is $50 more expensive than Sona, but it does come with some extras like the 2 technologies and detachable mouths. One thing I could do without is the magnetic charging. While it seems nifty, the first night I put my toy to charge it somehow detached and needless to say it was a total boner killer to wake up to. Also, do I really need to bring up what's wrong with the name?
Defining Features:
Smart Silence setting

Autopilot setting

More of a beating sensation

Comes with 2 different sized mouths
Pros:
Larger mouth for more vulva

Detachable heads 

4-hour user time

2-year warranty

12 intensity levels

100% waterproof

3.5 hour charge
Cons:
Expensive

Large in length

Magnetic charging

Difficult to clean
Lelo Sona 2 Cruise
Full Price $139
★★★★☆
The most defining features of the Lelo Sona 2 Cruise are the patented Cruise Control technology, the fluttering sensation it provides, and the fact that it's incredibly easy to clean. 
Cruise Control technology is probably what sets it apart most from competitors like Womanizer Premium. It stores 20% of the toys full charge and releases it the harder the toy is pressed against the body. This ensures that the toy doesn't lose power when you're climaxing. Remember when battery-powered vibrators would die in the middle of masturbation? You'll never have to experience that trauma again. Thanks to Cruise Control technology, I fully understand what Lelo means by "toe-curling" pleasure.
The pulses Sona puts off are more fluttery as opposed to beating like with Womanizer. It starts off gentle and persistent and can intensify immensely depending on your strength preference. It contains 12 pleasure settings total along with a variety of strength levels. No matter what clit sucker you're using, start on the lowest setting and work your way up as long as you're comfortable and it continues to feel good.
Warning: TMI. But what kind of reviewer would I be if I didn't reveal personal details! The first time I tested Sona I squirted in under a minute. It was confusing because it was the fastest I had ever cum before using a toy and also the first time I had ever squirted. Most of that probably has to do with the smaller mouth which is more concentrated on the clit. That being said, Sona could be too intense for a beginner or someone who doesn't want to experience an orgasmic explosion. The more you use it, the more you'll understand how the pulsations affect your body, but the orgasms keep getting better. 
This toy isn't the most ideal for partnered-sex in positions where the bodies are against one another, like missionary. Otherwise, if your clit is free, I highly recommend incorporating it while you get penetrated. The toy also isn't "whisper-quiet" as advertised, but again, won't be heard through the walls.

Defining Features:
Cruise Control technology

More of a fluttering sensation

Easy to clean

Pros:
Felt deeper in the clitoris

Smaller mouth for precise stimulation

Ergonomic design fits well against body

100% waterproof

12 pleasure settings

1-year warranty, 10-year quality guarantee

Cons:
Not quiet

Hard to nestle between bodies

Could cause too quick of an orgasm
Overall Winner
While both toys have a lot in common when it comes down to their purposes, Sona better executes the air pulsation technology at a lower price. Aside from the whole squirting incident, the fact that the toy won't lose power when I orgasm is a major bonus. 
The post Lelo Sona 2 Cruise vs. Womanizer Premium – One Orgasm to Rule Them All appeared first on Volonté .
Intimate Tickles found this article quite interested, and we thought you might to. We give all the credit for this article to
Lea Marsden
. Click Here To
Read This Article From It's Original Source