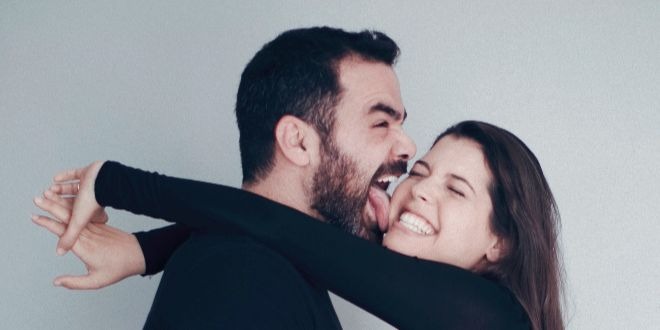 The Devirs are ultimate #couplegoals. Maya and Yehuda are content creators who have found success through protraying relatable moments of partnership and parenthood in their comics. We sat down with them to talk business and business in the bedroom. Check out the behind-the-scenes video on the comic they did about their favorite LELO sex toy below!

What do comics achieve that other forms of content creation or art cannot?
The secret behind the success of our comics is the content. In our comics, we talk about true, everyday moments and memories that all couples can identify with in a humorous and honest way – with no filters

What's your favorite social media platform and why?
Are there any that you can't get hyped on? We love all of our social media pages. Our audience is on every single social media platform so we try to attend all of them. Our main channel is on Instagram (@jude_devir), so we focus the most energy on that without neglecting the rest of our community on different platforms.
What do you consider to be your biggest personal and professional achievement so far?
Personal achievement: Our baby daughter Ariel, of course. Professional achievement: publishing our new book with the biggest publisher in the world, Penguin Random House.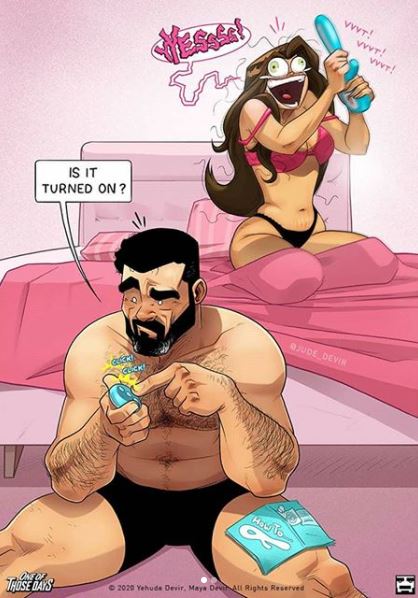 Are there any unwritten rules that have followed you throughout all of your work?
Our first and main rule is that every illustration has to be based on a true story that happened to us, that way we are able to keep the authenticity of our comics. Our main way to approach the stories is with humor – this is the keyword. We look at the humor in every situation. That's our way of life. Recently, you will see some content with a more serious approach, but we still try to keep it as light as possible for our social media community.
In your opinion, what's the difference between a good content creator and a great one?
Their courage to say what they really think and not what they think people will want to hear. Once a creator is true to themselves and doesn't try to please anyone, their work will be the most authentic.
Which aspects of content creation do you enjoy most? Which one is the most challenging?
We will start with the challenge: we are both artists and content makers and we are both really good at what we do, so a lot of times it take quite a bit to agree on how the final illustration will look like. The fun part is working together because everyone has their own strength, artistic and creatively, and we know how to use it wisely to create the perfect frame. We are a good team, and as an artist it is very hard to find a good partner. Most artists work solo and we can totally understand why.
Do you separate your work life from your home life? If so, how?
We try but it's not easy because our studio is at home. And we basically make a living out of our personal stories

We do make sure to take a break from work everyday when Ariel comes back from daycare until she goes to bed, then we go back to work…
When will you know you've "made it"? Or have you already experienced this moment?
We don't believe that there will be a moment when we will tell ourselves that we have succeeded and we can stop working now, because we don't see our comics as work. We really enjoy what we do and are thankful that we can make a living from it, which is an achievement in itself. The publication of our book with Penguin Random House was a point where we told ourselves "We finally did it!", we had done something we couldn't have imagined in our wildest dreams, but that didn't stop us from continuing to do what we do. It's just another milestone for us.
What's the biggest lesson you've learned from your career?
Persistence and faith.
Were there any career setbacks you faced that you later realized were an advantage?
A lot. Mistakes are important because you learn a lot from them. Mistakes make you stronger and smarter.
What advice do you have for someone new to content creation?
Be true to yourself and never stop. Ever.
What song comes first to mind when describing your love life?
Incomplete by Backstreet Boys.
What advice will you give your daughter about finding quality life partners someday?
Maya: Look for a true friend. Someone who will appreciate you and stand behind you in every obstacle.
Yehuda: They better worship the land she walks on.
How do you manage maintaining your alone time as a couple while having children? Are there any specific ways you guys have kept the flame alive? 
I think for us it's a bit easier because we are together all day long. We work together. And for now we only have one kid, so it's manageable.
What do you think is the best way to approach discussing your desires with your partner?
Be open. Don't be ashamed to talk about everything. Your partner is your best friend. Once you know more about each other the communication will be healthier, which is the secret to a successful relationship in our opinion.
How would you go about having your intimate alone time on vacation if you were with your family? 
At night we guess

If you were arrested with no explanation, what would your friends and family think you had done?
If we were arrested, it would probably be Yehuda's fault for visiting a toy store and fighting with some kid over the last toy.
What is your karaoke song of choice? 
All Bon Jovi songs! Because he is the KING!
If you could hire any actor to play yourself in a biographical film, besides you of course, who would you pick? 
Yehuda: Dwayne Johnson The Rock.
Maya: Angelina Jolie.
Are there any activities that help pull you out of "one of those days"? 
Yehuda: Weightlifting.
Maya: Gardening.
What job do you think you'd be really good at if you weren't pursuing your current career?
Maya: Singer.
Yehuda: Actor.
Do you have any irrational fears in life? 
Maya: Octopuses.
Yehuda: Growing up.
The post Exclusive LELO Interview with Content Creators Maya & Yehuda Devir appeared first on Volonté .
Intimate Tickles found this article quite interested, and we thought you might to. We give all the credit for this article to
Donna Turner
. Click Here To
Read This Article From It's Original Source