Because all genders are created equally and sex is positively fantastic – there are two special days allocated for the sexual pleasure of both men and women respectively. What a fantastic time to be alive, right?
So, while February 14th (aka Valentine's Day ) is a magical 24 hours for those in love, March 14th is reserved for Steak and Blowjobs while April 14th is reserved for Cake and Cunnilingus! Lust is underrated! Here's how it came about and some suggested celebrations.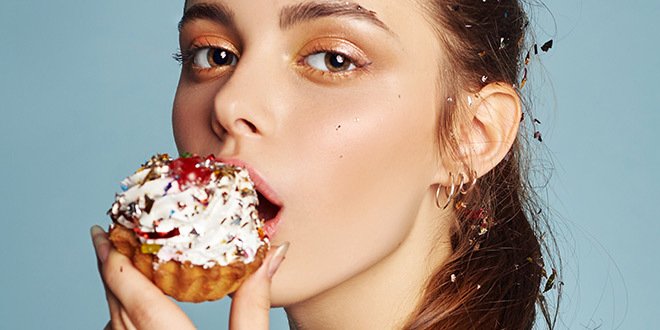 April 14th – Cake & Cunnilingus Day
What is Cake & Cunnilingus Day? It's a sexual celebration of women ! And it's as easy as pie to enjoy too!
A woman will simply lay on her back (or in any other position desired) and enjoy the most delicious piece of cake while her partner goes down on her . Personally, it's also how we feel every birthday should begin too.
And if she doesn't fancy a piece of cake, she could opt to celebrate it as Muffin & Muff Dive Day, Candy & Clit Licking Day, or even Pudding & Pussy Licking Day. On this special day, calories don't count, and both men and women are encouraged to go to town (in different respects, of course).
So, whichever way it's celebrated, the main focus is for women to enjoy pleasure. Both Steak and Blowjob day and Cake and Cunnilingus day were created to symbolize equality in pleasure. It's not one gender versus another, it's climaxing for all!
Who Coined Cake & Cunnilingus Day?
This delicious day was created by a woman known as "Ms. Naughty ", a filmmaker who has successfully been creating women-centred porn on the Internet since 2000.
In 2006, she decided that the male-centred Steak & Blowjob Day was a bit one-sided, and that women too deserved a special day pertaining to their sexual needs.
So, she invented Cake & Cunnilingus Day – a day to be celebrated exactly two months after Valentine's Day, and one month after Steak & Blowjob Day.
Her description of this day simply reads: "Women should have a day where they get to eat as much cake as they want and enjoy getting their clit licked without hesitation." And so, this glorious celebration came into being.
How Can You Celebrate Cake & Cunnilingus Day Deliciously?
This day need not be ordinary. In fact, you can do a number of things to make sure it's one you'll never forget.
Here are two different and inventive ways you can spice up Cake & Cunnilingus Day, making it a fun affair for both partners:
Pussy Cakes:

Order (or make) pussy-themed baked goods. How entertaining would it be to rock an erotic vagina cake or cupcakes?

Cake Sitting: A more kinky way to enjoy this day would be to try cake sitting. A woman can simply strip off her pants and panties and sit down bare-bottomed on a cake. Then, their partner has the fun task of licking them clean .
Why is Cake & Cunnilingus Day Important?
This special day for women is not only important as a means to even-out the playing field, but it's also a way to bring more awareness to the importance of women receiving oral sex.
In 2016, a study called, Oral Sex, Young People, and Gendered Narratives of Reciprocity was conducted by sexual health professionals, Ruth Lewis and Cicely Marston. They interviewed 71 teens in the United Kingdom between the ages of 16 and 18, asking them about their experiences when it came to oral sex.
Their findings were that the mere notion of a woman receiving oral sex was a "bigger deal" than for a man to receive oral sex. And while both genders agreed that a sexual relationship depends on give and take, it was found that a high number of test subjects, both men and women, believed that men expected oral sex more so than women.
In the U.S. it was also reported via an online survey that women were more likely to give oral sex as opposed to men.
With this information, initiatives such as Cake & Cunnilingus Day are a great way in which to break the stigma and to encourage mutual sexual satisfaction.
And for women looking to heighten their sexual experience, here are a few tips to ensure euphoria.
Top Positions for Women to Enjoy Delectable Clit-Licking Orgasms
The Peace Out: A woman can sit comfortably on a chair with her legs spread. Her partner will then place her clitoris between their two fingers, mimicking the motion of using scissors while licking the tip of the clitoris. This places a big focus on the part of the body that is most likely to make her orgasm.
Face-Sitting: For this, she should sit on her partner's face , without actually using all of her weight. Then, she can straddle and move in such a way that brings her the most pleasure.
Doggy Goes Oral: Doggy style is a favorite for many women worldwide when it comes to penetrative activity. But receiving oral sex in this position is totally mind-blowing too. By doing this, the woman can control the angle and the pressure, maneuvering her body in such a way that it'll create fireworks.
Also, if you're interested in giving anal cunnilingus a go, the Doggy Goes Oral is the perfect position.
The Deep V: For women who find themselves inside their head too much during sexual activity, The Deep V is a great way to help her relax. To do this, she should lie at the foot of the bed with her legs bent towards her chest in a V-shape.
Her partner can then gently massage her inner thighs while going down on her. This will bring more blood towards her vulva, while inducing a more relaxed feeling.
So, are you ready to rock Cake & Cunnilingus Day? Great! Because, as they say, the proof is in the pudding!
Check this out:
The post The Perfect Way to Celebrate Cake & Cunnilingus Day Deliciously appeared first on Volonté .
Intimate Tickles found this article quite interested, and we thought you might to. We give all the credit for this article to
Helena Lorimer
. Click Here To
Read This Article From It's Original Source