Whips and floggers are a perfect kinky addition to sex – they can add arousing tickly touches to the back of your partner's thighs or light stings with enough force. Have we piqued your curiosity? Available in red, purple or black, the SENSUA Suede Whip has soft and supple suede tassels, alongside the polished metal and acrylic handle that make it a stylish addition to any pleasure collection. These reviewers certainly agree!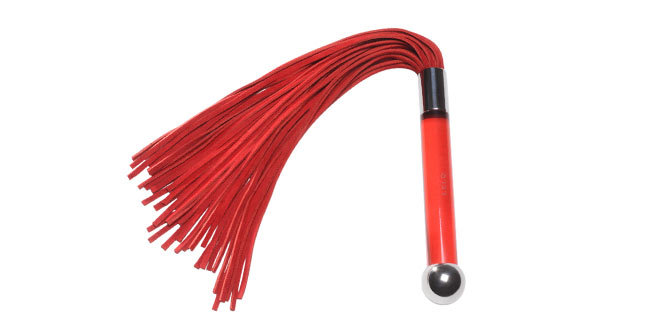 CARA SUTRA
LELO Sensua Suede Whip Review
"I have a penchant for BDSM floggers (multi tailed whips like this one) as they are so versatile. They can be used to lightly tease the skin of your partner, trailing it over their back and arms and bottom, or their front and sexual areas, or you can deliver a stinging punishment with it. I do prefer a longer tailed flogger with a heavier weight if I want to get really kinked up, but the LELO Sensua Suede Whip is quite obviously made more with a light touch of kink and romance in mind. As an alternative form of foreplay, using a 'handbag flogger' like this one is thoroughly relaxing and also arousing at the same time. The light sensations over the skin give me the same afterglow as an erotic massage.
As a light little whip the LELO Sensua Suede Whip is a luxurious item which has an exquisitely stylish look and feel. It's easy to hold and wield, not too heavy and the handle feels cool and smooth in the palm."
Read more of Cara's review of this multi-tailed whip !
KINKY WORLD
LELO Sensua Suede Whip Review
"The handle seems to be made from acryllic (see-through) and metal. This makes the handle very heavy compared to the forty little suede tails of the flogger. It definitely is not evenly weighted. It doesn't make it difficult to use though – it just feels a bit odd until you get used to the weight. I will say that it also does make it really easy to overshoot with your strength. Because you are toting around the weight of the handle, you don't notice how little the tails weigh, and as such, it's pretty easy to use too much strength when striking with the tails. Along with this, the handle is actually pretty perfect for your hand. The little metal ball on the end makes it really comfortable in my palm and makes it near-impossible to get it to fly out of your hand."
"Since this flogger is so tiny, it actually works amazingly for a partner to use during intercourse. It won't get in the way and you can use a flogger during sex. Because of the small size, you do basically have to be on top of your partner in order to strike them. This makes it best for sensual play or play when you sit on top of your partner or in other close contact."
This is a very carefully considered review of the SENSUA flogger – check it out!
The post Review Roundup: SENSUA Suede Whip appeared first on Volonté .
Intimate Tickles found this article quite interested, and we thought you might to. We give all the credit for this article to
Katy Thorn
. Click Here To
Read This Article From It's Original Source