The short leather skirt was tight on the blonde's ass, making it look bigger. Her legs were long and slim and she wore red high-heels that announced her presence on the dimly-lit street. As she walked, she knew the man behind was staring. She could feel it.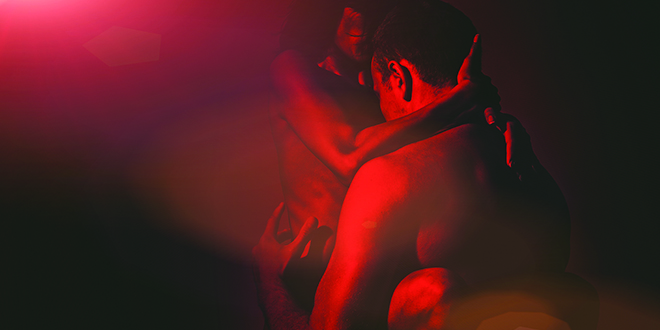 Suddenly, she stopped and let her silver zippo drop from her right hand, and with a slow move she bent down to reach for it, keeping her legs straight and slightly apart. She grabbed the lighter and stroke a quick powerful motion on the sparkwheel, lighting a flame between her legs. Inches from her she could now see a lustful face staring at her red thong that barely covered her clit.
"Enjoying the view?" she said invitingly, studying the tall handsome man between her legs. He had a black beard and black eager eyes. "It's hard not to" he responded biting his lower lip. She blew off the flame and stood up. "Come" she said in a bossy tone and started walking, knowing he will follow.
He stood still for a few seconds and then rushed to catch-up, measuring her body approvingly with his gaze. They walked in silence for a few blocks, and then she stopped and turned to him: "Here" she said, pointing to a green metal door that led to an unilluminated apartment block. "Are you brave enough to join me upstairs?" she dared him in a naughty voice.
Without saying anything he pressed her back against the door and grabbed her hair while exploring her mouth with his tongue. She opened her mouth and sucked his tongue lustfully, moaning, moving her hands across his tense abs under his shirt and slowly down across his already hard dick. She grabbed it and he pulled her hair harder, panting in her ear, aching. "Come on" she ordered suddenly, freeing herself from his arms.
She pushed the metal door open with her right foot and entered the building. He followed in and they disappeared into the dark corridor.
"What's your name?" he asked as he pulled her top over her head in a rush. "Call me Lava" she responded playfully. "Lava! I like that, like your hot body!" he said touching her hard breasts with both his hands. "Feel this" she said grabbing his left hand and bringing it down between her thighs. He could feel her pussy getting wet. "Yesss!" he said softly.
With a strong force she pushed him onto the bed and climbed on top of him grabbing his neck and squeezing it hard between her fingers while biting his ear gently. "You want to taste me?" she whispered. "Mmmmm" he moaned and pulled her onto his face. "You are getting so hot babe!" he murmured between her thighs.
She let him play with her clit for a while and then moved down slowly kissing his whole body and passing her wet tongue over his dick, making it grow harder and bigger. "Don't stop babe!" he begged her. "Not yet" she responded and swallowed his cock in her mouth while looking into his eyes.
Suddenly he pulled her body up and grabbed her ass pushing his dick deep inside her wet pussy. She moaned as he penetrated her and started moving up and down, slowly at first and then faster and faster until she felt a hot fire bursting inside her and a dangerous fluid leaking between her legs.
The post Liquid Fire – An Erotic Story appeared first on Volonté .
Intimate Tickles found this article quite interested, and we thought you might to. We give all the credit for this article to
Frances Moriarty
. Click Here To
Read This Article From It's Original Source