If you're technophile or a pleasure aficionado, then you've no doubt heard of the new SexTech line from LELO . Surely you know the ones: the most advanced pleasure items out there, packed full of tech and capabilities that will shape the future of male pleasure.
The LELO SexTech pleasure items – I'm talking specifically about the LELO F1s Prototype and the LELO F1s Developer's Kit RED – are, on the surface, male masturbation sleeves that feature motors to enhance the sensations. So, let's then break down the aspects of the SexTech pleasure items one would expect from a LELO luxury pleasure item.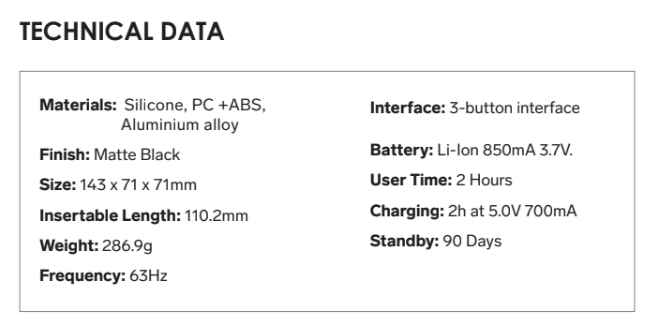 The LELO F1s SexTech items are:
Fully Waterproof, so expect easy clean up as well as some versatility in where you can enjoy it. Think of pleasure in the bath or getting off in the shower.
USB Rechargeable; just like all premium pleasure products should be, you can charge your F1s in the same way you'd charge your phone. Charging takes just 2 hours, and the Li-Ion 850mA 3.7V battery will give you 2 hours of use at full power but trust me, you definitely won't last that long with the F1s. It's pretty intense.
Sound: The F1s Developer's Kit RED and the F1s Prototype operate at a sound level of 50 decibels, which, if you look up "how loud is 50db?" in a web search, will show: "background noises in the average home, no conversation, no TV or radio".
And now, let's get down to the features that put these fantastic F1s SexTech items beyond everything else that's out there.
SenSonic Technology: like the best-selling sex toy of all time the LELO Sona , both F1s products come packed with two powerful motors that don't simply provide vibrations like a common sex toy would. These motors emit strong sonic pulses and waves that go beyond the surface sensations of a vibrating motor. The sonic pulses penetrate deep into your genital tissue and provide an all-encompassing sensation that reverberates all through your shaft. There's really nothing else like it.
Cruise Control: Another LELO technological innovation, in which the motors up their power output during heavy-duty use. For instance, in the event that you are using the product vigorously and pressing it into your body, sensors recognize this and put out more motor output so that you don't experience a drop in sensations.
App Connectivity: Users will be able to control their F1s either through the button panel on the product itself, or via the app that can be downloaded upon pre-order. Using the app, you can also track your performance with some more tech being used in sex toys for the first time, like…
10 Sensors: Yep, there are 10 sensors throughout the F1s Developer's Kit RED and the F1s Protoype that will be able to feed a whole bunch of different data to the app, allowing you to track your own performance as well as any number of datasets you can program into the app for a personalized pleasure training regimen.
Software Developer's Kit: This is a big one, however one that mainly only applies to the F1s Developer's Kit RED. For those who are inclined to code or adept at programming, the Software Developer's Kit (SDK) will allow people to experiment with their own pleasure projects.
Say that you want to track how hard your penis gets through all stages of arousal through to climax? You can program it! Seriously if your mind isn't reeling with possibilities, then maybe just get the F1s Prototype and make use of the programs made by the galaxy brain people who own the Developer's Kit RED.
Check this out:
The post F1s Technical Specifications appeared first on Volonté .
Intimate Tickles found this article quite interested, and we thought you might to. We give all the credit for this article to
Colin Hanna
. Click Here To
Read This Article From It's Original Source