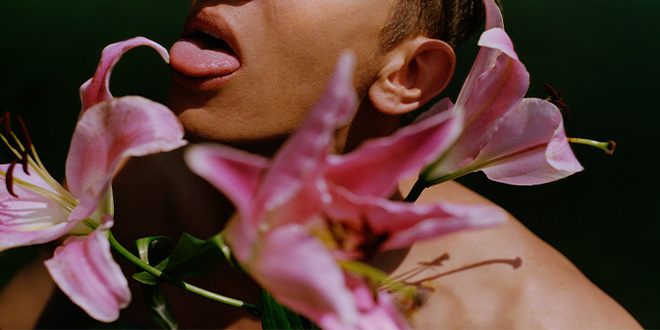 The chances that you've either been in, or have wanted to be in, a threesome, are pretty high. In fact, a threesome is one of the most popular fantasies for both men and women (and the number one fantasy for Americans, according to a survey).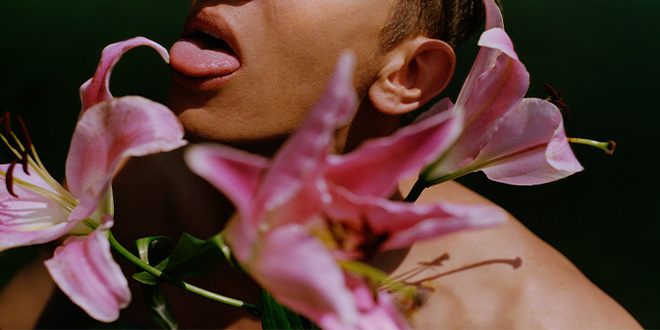 But are people actually engaging in threesomes? Well, one study found that 30% had been in a mixed-gendered threeway, which pretty much tells us that a bunch of people really are "gettin' down with 3P." Yay for fantasy fulfillment, right?
With that, let's have a little chat about the ins and outs of what goes down during a threesome. And while the imagination is seemingly limitless, one act that is quite delicious is double cunnilingus. Ever heard of it?
What is Double Cunnilinguist?
If you're familiar with the term "cunnilingus" then you're halfway there to deciphering the meaning of double cunnilingus. Cunnilingus is the act of one person performing oral sex on someone with a vulva . 
Add another person who's tongue tied in the equation, and you've got yourself double cunnilingus. That's right… two people licking, kissing, sucking, and devouring a vulva at the same time. 
In all honesty however, have you ever seen the act of double cunnilingus in porn? Rarely! (but we do give a few hints below.) It seems kind of awkward and impractical. But can you imagine being on the receiving end? Bliss.
Why The Receiver Will Love Double Cunnilinguist
It's no secret that vulva owners prefer clitoral stimulation over penetration . And the mere thought of two people going down town seems like pleasure overload. 
But the act of double cunnilingus need not solely involve two tongues on one clit. There are a bunch of different ways you can give this cheeky sex position a go.
How to Practice Double Cunnilinguist
Firstly, you'll have to find your tribe . That is, two people who are comfortable being in the nether regions at the same time. This is of course up to personal preference. Some may love the idea, others may find it awkward to have their faces intertwined with another whilst giving oral sex.
Secondly, the vulva owner would need to be on-board too. Remember: consent is necessary ! And so, once you have three willing and sexually-charged individuals ready to ramp up the heat, here's how it could go down…
Double Clit Double Cunnilingus
If both participants are happy to merge in ecstasy, they could stimulate the clitoris together at the same time. 
Take turns using mouths, tongues, and fingers to create a combination of different sensations, or lick together in unison for even bigger fireworks.
Clit & Surrounding Vagina Double Cunnilingus
One person could sensually and erotically lick their partner's clit, while the other gets a taste of their labia and other vaginal surroundings. 
Find the most comfortable position for you, such as the receiver in a low doggy style position while the other two place themselves in such a way that it gives them special access to their chosen erogenous zone. 
Or, doing it the old-fashioned way, but instead of one person snuggled up at the most heavenly spot, it's two.
Rimming & Clit Double Cunnilingus
This is when one partner has both holes stimulated at the same time, which can be a huge turn on for some, be it the receiver or the giver. 
And if you don't know what rimming is, aka analingus , it's when someone licks, sucks, kisses their partner anally. 
For those who've never given or received analingus, don't knock it until you try it! The anus has a super high count of nerve endings, making it highly erogenous. In fact, the worst assumption one can make is that only certain people engage in this practice.
Coming back to this kind of double cunnilingus, one way to give it a go would be for two partners to get in the 69 position while the third is positioned on their side.
Feeling a bit confused or overwhelmed? Perhaps a visual representation may make things a bit clearer for you…
Double Cunnilingus Porn Resources
For research purposes only, of course! You can dip your toe into the wonderful world of double cunnilingus porn by checking out the films:
So, for those giving this erotically-charged threesome sex act a go, we wish you tons of pleasure and many orgasms. 
And for those who're just slightly intrigued, we hope you find our "educational" resources to be of good use! 
At the end of the day, it's whatever your pleasure, treasure!
The post Boost Your Threesome with Double Cunnilingus appeared first on Volonté .
Intimate Tickles found this article quite interested, and we thought you might to. We give all the credit for this article to
Helena Lorimer
. Click Here To
Read This Article From It's Original Source