While foreplay, dirty talk, fornication, and sensual toys are sexy, the spread of STI's and HIV is not. So, without trying to be a boner killer, the use of condoms is a conversation that simply needs to be had. 
Why? Because with them, we can all enjoy near risk-free sex which is the ultimate goal at the end of the day, right? 
But out of interest, are you curious to know just how often people actually use condoms?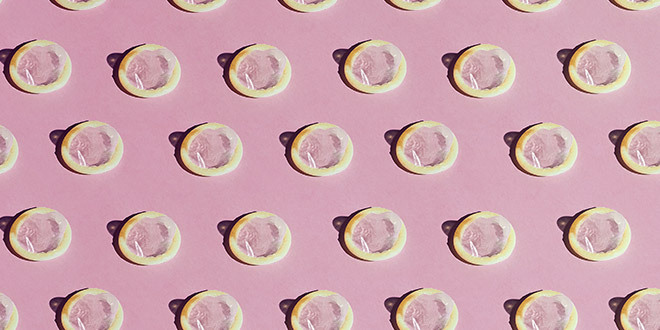 How Often Do People Use Condoms?
According to Sean M. Horan Ph.D , the question of how often individuals wear condoms was answered with "sometimes". His 2016 study revealed an average of 3.06 out of five (five being always), which lets us know that condoms are not always used, but not always ignored either.
This study also found that the participants were less likely to use a condom during anal sex , and even less likely to wear a condom during foreplay.
Horan underwent a different study in 2018, where the likelihood of condom use was found at 3.56 out of five (five being always), which is almost on-par with his earlier study. These two studies show a trend that hasn't changed much at all over the period of two to three years.
What was particularly interesting however, was Horan's 2017 study which looked at the reasons why people chose not to use condoms. One of these reasons was the fact that they were not sufficiently educated about the spread of STI's and HIV which lead to a misconception of sexual risk. 
With this result, it's evident that there needs to be more open and honest communication and education when it comes to sexual risks and safety.
To get things cracking, here are four tips that you may not know that'll enhance the effectiveness of condoms .
4 Tips for Effective Condom Use
Condom Storage: The best possible place to store condoms is in a cool, dry spot that's not in direct sunlight. It's better not to keep a condom in a wallet, as friction could cause wear and tear leading to less effectiveness.
Expiry Date: Condoms expire. Don't rely on one you've had in your nightstand for five years, always check the date.
Use a Condom Once Only: Once a condom wrapper has been opened, use it once. You should never use the same condom twice, even if it involves moving from vaginal sex to anal sex.
Latex is Best: Latex provides the best protection whereas lamb skin and natural skin condoms have small pores that could spread STI's and HIV .
But Wearing Condoms is a Drag!
Look, we feel you! But, guess what? Sex without a condom is usually just not feasible! Which is why we're all settling for second best which is… the thinnest and strongest condom on the market today. 
What is the Thinnest and Strongest Condom?
Drum roll for the sleek and sexy HEX condom from LELO . 
When you think of a pack of condoms, you probably imagine a colourful box that can be found in your local supermarket or drugstore. 
But what if your brand of condoms boasted sheer class and sophistication with packaging super discrete? This is not to say that buying or using condoms should be an embarrassing occasion, but it's just one more reason why LELO trumps.
With the tagline of "Our world has changed. The condom hasn't. Until now," LELO's HEX condoms are on-point when it comes to its brand. And what's inside is even more impressive… 
36 LELO HEX condoms, all of which are made up of 350 interconnected hexagonal structures, are strong, thin, and sensation-enhancing. 
And sure, we like to toot our own horn but we're not the only ones who think we've done pretty well with our condoms. Media representatives all over the world have called it one of the most important advances in condom technology in decades. 
The LELO HEX condoms are ultra thin at 0.045 mm, and have proven to be stronger than any other condom brand. It's just not surprising that 95 percent of customers recommend them, with one user commenting:
"These are without question the world's best condoms. They stay on. They feel great. I might be overthinking this, but I hardly notice it is on. Other brands, I tend toward the larger version. Not with these, they fit perfectly. A good thing, they stay on when soft. I actually like wearing these."
Wait, did he just say "I actually like wearing these"? See! That is a real first in condom technology.
And when it comes to the slightly bigger fellas, LELO has something called HEX Respect XL . What's the difference between the HEX and the HEX RESPECT XL? The diameter and the length…
With the HEX condoms sitting at 54 mm in diameter and 180 mm in length, the HEX Respect XL is 58 mm in diameter and 195 mm in length. Both are 0.045 mm in thickness, made up of 350 hexagon structures, and are lightly lubricated.
Ding, ding, ding! We have a winner when it comes to the thinnest and strongest condoms!
And if you consider yourself an expert when it comes to condoms, have a crack at some of the questions from WebMD's condom quiz below… 
True or False: Are You a Condom Expert?
Oil-based lubricant is recommended when using latex condoms.

If washed, a condom can be used twice.

Storing a condom in a wallet for five month is 100 percent safe.

Condoms don't expire.

One size fits all when it comes to using a condom.
Think you've aced it? Let's take a look… 
False. Only water-based lubricants should be used with latex condoms.

False. A condom should never be used more than once.

False. Condom use, in general, is never 100 percent safe.

False. Condoms definitely expire.

False. There are different condoms for different sizes, such as the HEX RESPECT XL for men on the larger side.
And that brings us to the end of our little sex education lesson and quiz. We salute you moving forward, enjoying new sexual heights with the thinnest and strongest condom keeping you safe!
The post What is the Thinnest & Strongest Condom? (And Take Our Condom Quiz) appeared first on Volonté .
Intimate Tickles found this article quite interested, and we thought you might to. We give all the credit for this article to
Helena Lorimer
. Click Here To
Read This Article From It's Original Source