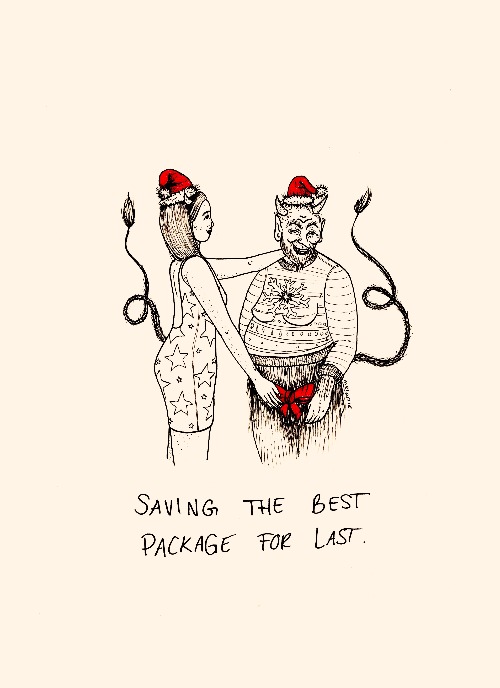 I was having a hard time fulfilling my role as the company Santa. I managed to pass out all of the presents, but the whole time I was thinking about her. Those legs had me drooling to run my hands up them and that shade of red lipstick that matched her dress had me imagining what they'd look like wrapped around my candy cane. Handing out the last of the gifts, I excused myself from the crowd and made my way over to her table. Her eyes stayed locked on me the whole way over.
"You're quite the giver, Santa. Looks like you're all out of presents."
"Well, I may have one more special surprise left for a certain someone."
"For me, Santa? Are you saving the best package for last?" She added some emphasis to the word "package" and gave me a Cheshire grin.
"Definitely. Meet me in my office in fifteen minutes."
I managed to slip away from the party with no one the wiser. In my office, I stripped out of my Santa outfit and leaned against the edge of my desk and waited. When she walked in, a wicked smile slid across her face as she closed and locked the door behind her. She took in the sight of me naked except for the Santa hat covering my hard cock.
"Oh, Santa. I should probably tell you that I've been a very naughty girl this year."
"Show me," I replied, my lust taking over.
She dropped to her knees as she threw the hat aside. Her tongue slipped out to circle the tip of my cock a few times before she took my length into her mouth. A small moan escaped my lips as hers slid along the length of my shaft. Her eyes held my gaze as I watched bright red lips slide along me at a teasingly slow pace. She knew she had me right where she wanted me. She sped up as her hands caressed my balls, gently squeezing now and again. It wasn't long before I felt that tell-tale sign and she stood up, releasing my cock.
"Santa, can I sit on your lap?"
I didn't reply, but started shoving things off my desktop. She shoved me on top of it and climbed up, positioning my cock at her wet entrance. She slid down, slowly at first, her long moan filling my ears. Then she started riding me, fucking me as fast as she could. Soon, her mouth opened in a mostly silent scream as I felt my own climax boiling to the surface. She slid home on my cock as my cum filled her to the point of overflowing. She collapsed on top of me, smiling with a look of satisfaction on her face.
"Could you give me that list again," I asked panting for breath. I think Santa passed out with pleasure during part of it.
Written by Conner Hunt for LELO's Naughty Holidays Erotica Contest
The post Santa Comes Early – Second Place Story appeared first on Volonté .
Intimate Tickles found this article quite interested, and we thought you might to. We give all the credit for this article to
Conner Hunt
. Click Here To
Read This Article From It's Original Source