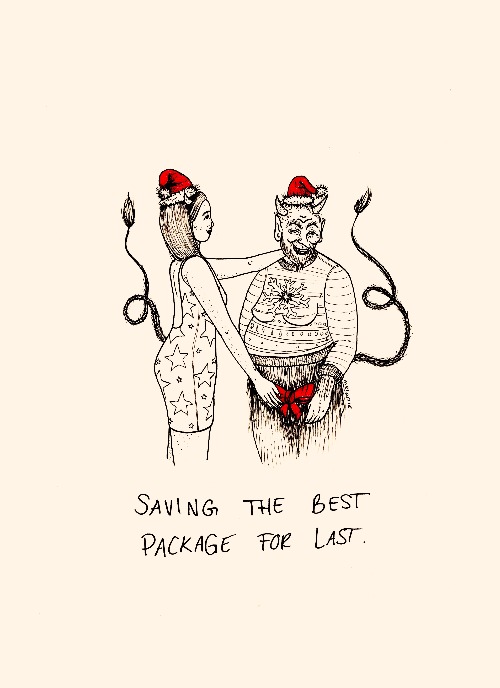 My lovely lady licks her lips;
Ten gifts lie at her fingertips. 
Come unwrap your presents, here's your chair. 
She smooths her skirt; I touch her hair. 
Gift 1 is hard and shaped like me.
Toy 2 vibrates. 
So does 3 . 
The fourth 's a blindfold wrapped in twine. 
I place it on and pour some wine. 
I feed it to her with my tongue. 
The wine is old. The night is young. 
With sight obscured I take it slow. 
She wonders how this game will go. 
Unbutton blouse, light candlestick;
She hears the bedroom door lock click. 
Her body starts to come alive.
I place her hands on number 5.  
It's the one I know she hopes I've bought,
The one that hits her deepest spot,
That feels so good it almost hurts. 
She stands and I peel off her skirt.
For a moment there's just fragrant lace
Between her pussy and my face. 
But just as quick that lace is gone. 
Her clothes are off, the blindfold's on. 
Her every wish is my command. 
So I take her by her hungry hand,
And lay her on our firelit bed.
Her lips are parted, legs are spread.
I can't decide which one to use…
She says it quick, she wants to choose. 
Wait til the end and then you pick. 
Let's move on to number 6 .
I buzz her nipples just a bit,
slip down her belly and graze her clit. 
Then 7 slides in warm and bold;
She whispers let me guess….its gold?
The 8 th is long and firm inside;
The perfect toy to hold and ride. 
She's ready, rabid, perfect, primed.
I lift the blindfold,
Ok, it's time.
She picks them up, she blushes red.
She clears her throat and cocks her head:
Take your pants off. Hand me 8. 
Now sit and watch me masturbate.
But she likes to watch as well as show,
So I free my cock and rub it slow.
And since I know she likes to see,
Number 9 's a gift for me. 
As firelight flickers on her thighs,
She fucks herself and groans and sighs.  
She's writhing, moaning, soaking wet;
I'm close but she's not finished yet. 
She pulls her knees back, lets me see,
And then goes back to number 3.
It's buried deep, she's going fast.
Her cream is running down her ass. 
Her back is arched,
Her clit is humming, 
She bites her lip and gasps,
I'm coming….
And as she does then so do I.
And nothing in our room is dry.
We're spent and sticky, salty, hot.
You happy with the gifts you got?
I ask but don't require reply;
The evidence is in her sighs.
She tells me "yes" with just her eyes,
And the sweat that's drying on her thighs. 
The final gift? The perfect 10?
It's her, unwrapped, the dream of men. 
The sea, the sex, the wine, the wind. 
We come. We kiss. Then come again. 
Written by Mr. Saratoga for LELO's Naughty Holidays Erotica Contest
The post Making a List – First Place Story appeared first on Volonté .
Intimate Tickles found this article quite interested, and we thought you might to. We give all the credit for this article to
Mr. Saratoga
. Click Here To
Read This Article From It's Original Source