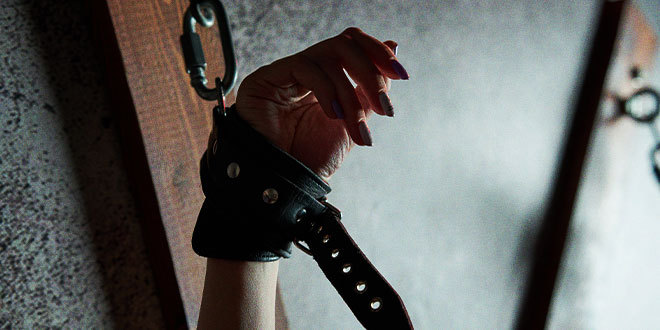 Maybe it's all the time I spend starring at these four damn walls all day but…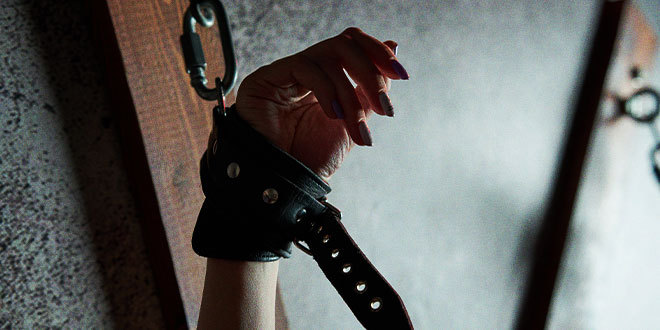 "One more minute," she shouts through the door. 
…that minute seemed like a lot to ask of me right now. Especially with a necktie on. Dress up for date night, sure, I can appreciate that. But please, don't make me wait half an hour in front of our home office door in this attire. Not when dinner is 10 feet away.
"All done, you ready?" she asks. 
I've been ready for 20 minutes. 
"Yes hun, I'm ready."

"Open up" she replies. 
I open the door and immediately regret my haste. I was not ready at all.
She is standing in the middle of the room wearing nothing but her favourite pair of heels and a black body harness. Her gorgeous skin exposed and longing to be caressed, her breasts waiting for the firm grasp of my excited hands. And those hips…
"Surprised I see."

"Don't taunt me," I retort. "You look astonishing."
She points at a box on her desk.
"For me?"

"For us."
I open the wooden box to discover a set of white leather suspension cuffs and matching white leather slave choker necklace with the word wifey attached on it.
"Me likee. But we don't…"— I notice 2 freshly installed stainless hooks on the ceiling — "oh, so that's what took you so long."
She looks at me with a knowing smile.
"I'm amazing at screwing, but not that type of screwing."
All of a sudden my attire seems fitting. I take the choker out of the box and approach her.
"So you want to play?"

"It's date night after all. And I knew you wanted to try suspension."

"I do."
Even if I have just joined in on the fantasy, I will make certain her appetite is satiated.
I am facing her and her body is tempting me more than i dare to admit.
"Put it on please" she requests.
I grip her cheeks with one hand.
"That's please Mister from now on," I reply. "Understood?"

"Yes Mister."

"Good," she offers her neck for me to attach the choker, "now turn around."
She abides. I tighten the choker and take a step back. I admire her body for an instant, the way her ponytail falls on her shoulders. I visualize how I'm going to explore the landscape of her back, the playground of her chest and the fountain between her thighs. How I'm going to use her. I take off my necktie.
"Put your hands behind your back" I order.
I tie her hands together with it. I put my index inside the ring of the choker and lead her towards the red accent chair in the corner of the room. I place both her hands on the arms of the chair and push her knees to lay on the upholstered cushion seat.
"Ass up."
Obedient, she arcs her back and pushes these two beautiful mountains of pleasure in the air. I grab them firmly with both my hands, and spread them. I glare at her pink flesh calling upon me and the shining crystal at the end of her butt plug. The perfume of her vice finding its way to my brain. The glistening of her labias as her body prepares to be handled with passion. I can't help but to have a taste.
I dig my tongue deep inside her. It is instantly met with the flavour of her arousal. I take my time to entice her properly. As the blood rushes more to her clitoris after each passing of my tongue, I can feel the blood rushing inside my cock with my accelerating heart rate. I press myself against her ass and unleash my phallus from its formal attire so it lays between her tied up hands.
"You've been a naughty girl," i say, "look what you've done to me."

"What can I do to be forgiven Mister?"
While she strokes my hardening member, I untie her hands and take a step back.
"Get on your knees."
Kneeling down in front of me, her beautiful face rests no more than an inch away from my cock. I can feel her excited breath on it. I blindfold her with the necktie, walk back to the desk and grab the suspension cuffs, go back to her and lift her arms over her head.
"I had a taste," i say as i delicately press my gland on her wet lips, "now it's your turn."
She turns her tongue around my cock and gently suck the tip. I place the cuffs on her wrists. She slowly starts her back and forth motion. I lace the cuffs tightly. She takes my cock balls deep in her mouth. I can barely handle my task anymore. I remove myself from her mouth and have her stand up. I lift her in the air and install her on the hooks. Lets try out that new gear.
"Take me please Mister," she begs.
Completely surrendered to me, I lift both her legs and slide inside her without any resistance. The strength of my erection is molded in the tightness of her pussy, warm and damp. The undulations of her body makes me go insane. My hands have a solid grapple on her butt cheeks.
I pull out and push in the butt plug and I can feel the shape of it's head pushing against her inside walls adding pressure on my verge. The more I penetrate her the less I control myself. I fondle her breasts with my mouth and kiss my way up to her lips. She french kisses me and bites my lower lip. I lose my control.
My stiff shaft navigates deeper inside her. I surrender. She offers a satisfied smile as my throbbing cock discharges every last drop of cum in her. Before I can catch my breath she decides:
"We're definitely keeping these hooks."
The post Make Me Fly, Mister – An Erotic Story appeared first on Volonté .
Intimate Tickles found this article quite interested, and we thought you might to. We give all the credit for this article to
Loudvic Bone
. Click Here To
Read This Article From It's Original Source